Zorah Today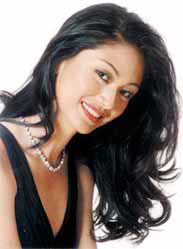 Though Zora did not land in the Miss U semifinals, she is a definite winner in every way. Zora without question represented the Philippines and its people in the best way that she could. We can look back at her seeming popularity with the Puerto Rican media and people who consistently included Zora in the their Top 10 list of delegates likely to capture the crown.
After recently representing the country in the 2001 Miss Universe, Bb. Pilipinas Zorayda Ruth Andam is back in the country, ready to take on the challenge of being a full-fledged beauty queen. Today, Zora keeps in shape by brisk walking, her workout ever since her days of staying at the UP dorm. She had visited Baguio wherein she had not visited for years.
Although Zora has been on leave from school since joining Bb. Pilipinas, she remains focused on her first and main dream: to be a lawyer. She vowed not to enter showbiz, although she could do some commercials or host a public service show. "It was my dream since I was in grade school to be a lawyer," she confesses.
Once again, Zorah will be representing the Philippines in this year's edition of the Miss Tourism-World Beauty Pageant in Medellin, Colombia on Sept. 30th.

Good luck Zorah and mabuhay!