Gallery 3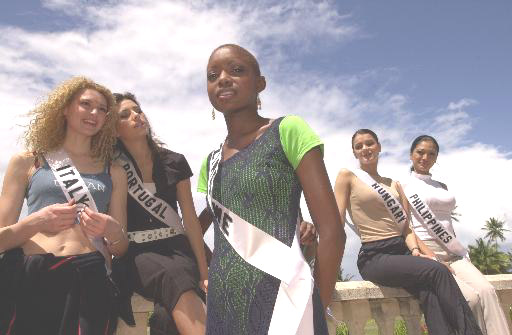 Zorayda Ruth Andam, Miss Philippines 2001 with other Miss Universe 2001 delegates touring Old San Juan.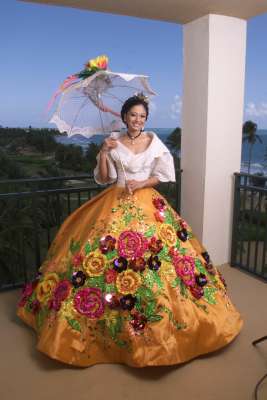 Zorayda Ruth Andam, Miss Philippines 2001, poses for photographers high atop The Westin Rio Mar Beach Resort, Country Club and Ocean Villas in Rio Grande, Puerto Rico in her National Costume. The national costume worn by Miss Philippines, Zorayda Ruth Andam, took inspiration from the 19th Century novel of the country's national hero and patriot, Dr. Jose P. Rizal entitled "Noli Me Tangere." Maria Clara was the name of the heroine in the novel. She was a woman of finesse and a symbol of femininity, hence the Philippine national costume, which is still used today as a full dress, is aptly called the "Maria Clara." It consists of a blouse using the fabric made from woven pineapple and banana fibers and delicate embroidering showing native designs and figures. As an accent, a "panuelo," or a scarf, made from the same material is worn to cover the neck area. It passes over the shoulders and its pointed tips gather around the chest part of the blouse. The ample skirt called "Saya" is luxuriously decorated according to its class and the nature of the occasion. In orange color, the skirt is complemented by a richly starched petticoat, giving it an abundance and a fullness. The look of the skirt is highlighted by rich handiwork of embroidery using designs such as sparrow shots, spangles and a variety of appliques in a floral motif. To complete the "feminine" look of the national costume, a delicate parasol made from the same material as that of the blouse is used by the wearer. It has an eye-catching embellishment of flowers and exotic from the region.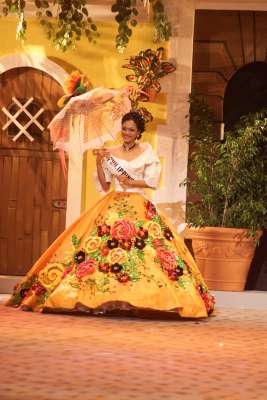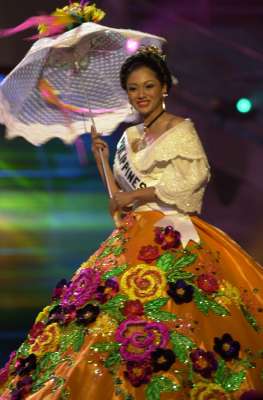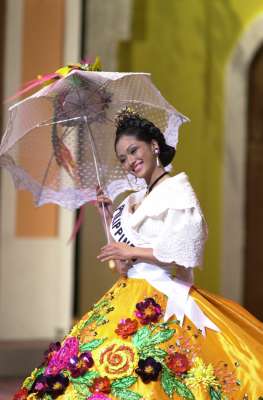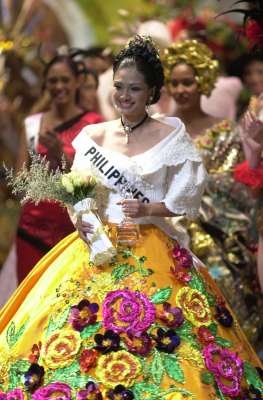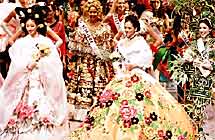 Miss Universe 2001 National Costume Show
at the Luis A. Ferre Performing Arts Center in Santurce, Puerto Rico on May 2, 2001.



Photos courtesy of Miss Universe L.P., LLLP.